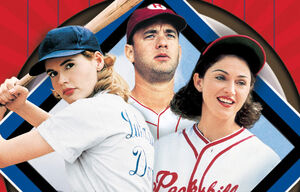 Flop House host Elliott Kalan's favourite way of describing himself, Dan McCoy and Stuart Wellington when all three of them are present at a recording of The Flop House. It is an allusion to the baseball team in the classic 1992 film A League of Their Own.
Technically, though, this was not the original lineup of the podcast (cough cough Simon Fisher cough).
The Phrase "Original Peaches" Mentioned In
Division of Labor
Each Flopper has a critical role to play in the creation of a world-class podcast.
References