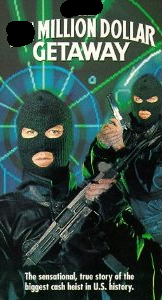 Not to be confused with: Episode 142: Getaway
A movie pitch made by Elliott during the Jonah Hex episode, at about 13:20 beginning in discussing how Megan Fox's character's contract is similar to those of 40s and 50s jazz artists. He will sell it to the first studio that offers him exactly $700,000, an amount which may or may not be related to a debt-issue.
A jazz artist contracted to work in a Mafia-owned night club who witnesses a mob-killing goes on the run dressed up as a woman. After joining a female jazz-band, the artist falls in love with one of the women who turns out to be a millionaire in disguise. Globe-trotting the Earth follows (Europe mentioned specifically), which is cut short when the artist bumps into The Shogun, who puts out an honor vendetta on our hero. The Ninja and Samurai (not Shamu-rye) follow the two back to America, where the Mafia and Ninja are manouevered into one building, in hopes that they will kill eachother.
Mentioned In
Edit
Community content is available under
CC-BY-SA
unless otherwise noted.