We're Getting Mutants in the MCU - The Loop
Play Sound
Tag
[
]
| | |
| --- | --- |
| Stuart : | Tonight we watched Three Hundred...and One...Dalmations. |
| Dan : | No, Stuart. It was 300: Rise of an Empire. |
| Elliott : | And boy, did it ever! |
Website Blurb
[
]
"Thus we enter November, the month known for having 'No' theme. And, appropriately, we watched one of the most generic of modern action sequels, 300: Rise of an Empire. Meanwhile, Elliott lectures on Noid avoidance, Dan makes a public apology relating to one type of music and attacks another, and Stu makes an exciting announcement for enjoyers of comical books."
Movie Summary
[
]
Premise
[
]
Prequel to 300.
Greek general Themistokles leads the charge against invading Persian forces led by mortal-turned-god Xerxes and Artemisia, vengeful commander of the Persian navy.
Story
[
]
While King Leonidas and his 300 Spartans have their date with destiny at Thermopylae, another battle against the Persians is brewing, this time at sea. Themistocles, a Greek general, sees the threat posed by the God-King Xerxes of Persia. He knows that he must unite all of Greece if he is to stand any chance of repelling the Persian invasion. Even if he accomplishes his mission, Themistocles must still face Artemisia (Eva Green), the ruthless leader of the Persian armada.
Final Judgments
[
]
Bad-Bad Movie (Dan) @28:45
Bad-Bad Movie (Stuart) @30:10
Bad-Bad Movie (Elliott) @30:10
Episode Highlights
[
]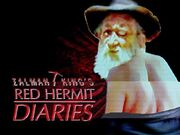 303: A Hermit's Tale: Greeks Versus Draculas @14:45, 39:40
The Red Hermit Diaries @15:50
Star Crash Lena Headey has sex with James Spader during a car crash in this Stargate/300/Crash crossover. @22:20
Waterloo 2.0 An over-the-top retelling of the Battle of Waterloo with monster French guys and a twelve-foot-tall, fire-breathing Napoleon riding a dragon. @30:40
Quotes
[
]
"

­Okay, stop. Stop, please. Stop right there. Please stop.

"


       —Elliott @19:25
Listener Mail
[
]
Mailbag Song
[
]
@37:25
Letters
[
]
"I'm a Stupid Monster" from Brian Lastnamewithheld @37:20


Pumpkinhead @41:15
"NYUM" from Finn Lastnamewithheld @43:00

"Mail Title" from Listener Lastnamewithheld @Time

Recommendations
[
]
Eraserhead (1977) by David Lynch (Dan) @59:30
The Plumber (1979) by Peter Weir (Elliott) @55:30
Witching and Bitching (2013) by Álex de la Iglesia (Stuart) @1:02:15