| | |
| --- | --- |
| Elliott: | Welcome to the hellish maelstrom of Shocktober! When all evil walks the Earth, and the veil between the other world and this is at its thinnest. |
| Stuart: | Can you—can you hear that sound? ("Boogens!") |
| Hallie: | Ow! It shocked me! |
| Elliott: | The curtain between the spirit world and ours is so thin that you can see a ghost's nipple sticking through it. |
| Dan: | Yep. When ghosts, and goblins, and gooblins, and— |
| Elliott: | And gorblins. When ghosts and ghasts and Ryan Ghostlings... |
| Dan: | Uh, it's terrifying. It's a living hell. But funny. |
| Elliott: | Anyway, the point is: the world is a blasted nightmare, and its name is Shocktober. |
— Episode 162: The Quiet Ones @08:45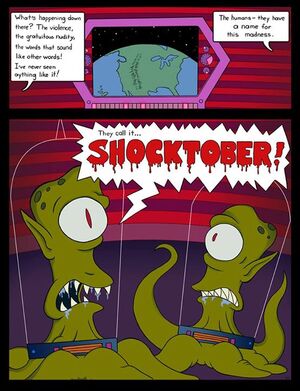 Just as Cagemas arrives but once a year, so too with Shocktober.
Shocktober, occasionally referred to by Stuart as Shockoween, is a month-long celebration of horror films held every April. Only joking, it's in October. (That's how it got the name!)
During Shocktober, The Flop House watches slightly more horror films as opposed to the other months of the year (in which they also watch horror films). Sometimes the intro music is different for Shocktober episodes...though most times it is not. One time Stuart talked about two Draculas during the music.
And sometimes The Cryptkeeper shows up, because fuck it, why not?
Shocktober Film Ratings
[
]
movie
Dan
Elliott
Stuart
other
Fantasy Island
Slender Man
Pretty Snorifying
Totally Snorifying
?
The Nun
Totally Snorifying
Totally Snorifying
Totally Snorifying
Friend Request
Slinky-Slonky/ Snorifying/ Frighteningly Funny
Slinky-Slonky/ Snorifying
Slinky-Slonky/ Snorifying
Truth or Dare
Totally Snorifying
Totally Snorifying
Totally Snorifying
The Bye Bye Man
Totally Snorifying
Totally Snorifying
Totally Snorifying
Rings
Totally Snorifying
Totally Snorifying
slightly snorifying (Jordan)
The Lazarus Effect
Totally Snorifying
Totally Snorifying
Totally Snorifying
Totally Snorifying (Hallie)
Victor Frankenstein
Totally Scarifying
Totally Snorifying
Totally Snorifying
Ouija
Totally Snorifying
Totally Snorifying
Totally Snorifying
Totally Snorifying (Hallie)
Deliver Us from Evil
Totally Snorifying
grossily goopifying
Totally Snorifying
Leprechaun: Origins
Totally Snorifying (The McElroys)
Unfriended
Totally Snorifying
Totally Snorifying
Totally Snorifying
Dracula 3D
Frighteningly Funny
Frighteningly Funny
Frighteningly Funny
The Quiet Ones
Totally Snorifying
Totally Snorifying
Totally Snorifying
Totally Snorifying (Hallie)
The Purge
Totally Snorifying
Totally Snorifying
Totally Snorifying
ATM
Totally Snorifying
Totally Snorifying
Totally Snorifying
The Devil Inside
snorifying
snorifying
snorifying
The Raven
2/3 snorifying, 1/3 scarifying
90% snorifying, 10% scarifying
super snorifying
Red Riding Hood
20 thumbs up
eerily adequate
spookily good-bad
good-bad (Alex)
Season of the Witch
(agreed)
(agreed)
frighteningly snorifying
Priest
Totally Snorifying
snorifying
snorifying (Tom)
Teen Witch
Frighteningly Funny
not snorifying
totally scarifying boners
The Uninvited
bad-bad
bad-bad
bad-bad (John)
Blood: The Last Vampire
good-bad for the first 40 minutes
(agreed with Dan)
bad-bad (Federico)
The Chaos Experiment
only watch the first 30 and last 10 minutes
Totally Snorifying
fucking piece of shit
The Unborn
Frighteningly Funny and snorifying
Frighteningly Funny
Frighteningly Funny
The Happening
Frighteningly Funny
Frighteningly Funny
snorifying
Prom Night
bad-bad
bad-bad
bad-bad
Saw III
it made me angry
it's retarded
hated this goddamned movie (Simon)
The Number 23
scarifyingly funny
Totally Snorifying
scarifyingly funny (Simon)
Official Shocktober Theme Categories
[
]
Totally Scarifying
Totally Snorifying
Frighteningly Funny
Decidedly Not Canonical Shocktober Categories

[

]
Bitily Scary[1]
Creepily Bad-Good
Eerily Adequate[2]
Eerily Good-Blad[1] [sic]
Frighteningly Farty[3]
Frighteningly Kinda Good[4]
Frighteningly Good-Bad[5]
Frightfully Good[6]
Ghostly Good[7]
Ghostly Satisfactory[4]
Ghoulishly Okay[7]
Giddily Good-Groke[8]
Grossily Goopifying[9]
Hauntingly Okay[4]
Horrifically Bad-Good
Horrifically 4/10[4]

Horrifyingly Bad-Good[10]
Horrifyingly Good-Bad
Horrifyingly Horrifying[2]
Horrifyingly Not-So-Good[3]
Horrifyingly Scarifying[11]
Nightmarishly Ehh[3]
Pumpkiny Bad[7]
Scarily Awful[4]
Scarily Borifying[5]
Scarily Horrifying[3]
Scarily Meh[13]
Scarily Snorifying
Scarily Snoring[10]

Scarily Spookenying[8]
Shockily Stupefying[1]
Shockingly Good[2]
Shriekfully Decent to Watch[15]
Snorkily Stupefying[8]
Spookily Badifying[14]
Spookifyingly Scary
Spookily Scarifying[17]
Spookily Scary[7]
Spookily Sleepy[10]
Terrifyingly Good
Terrifyingly Great
Wormily Not-So-Good[14]
Slinky-Slonky[18]
Mentioned In
[
]
<references>
Trending pages
All items (37)